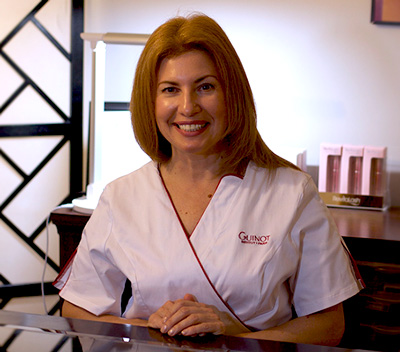 Hi, I'm Angela, and I am the owner of Rouge Et Noir. I have over 25 years of experience working in skin care industry. I was born in Ukraine, where I got my PA background. Later I studied at Guinot in Paris and a massage therapy school in Spain before I moved to the United States in 2002.
In 2003 I acquired my esthetician licence and over the years I have achieved excellent results in preventing signs of aging, eliminating acne as well as other body treatments among my clients.
History of Rouge Et Noir
I've been running Rouge Et Noir for 6 years thanks to my devoted clientele who rely on my intensive knowledge and indulgent care. I'm passionate about learning and introducing new treatments and techniques to my clients.
Permanent makeup is a new service at Rouge et Noir and it's my absolute favorite.
Please visit Rouge Et Noir's seasonal specials page to receive a discount on your first treatment or contact me if you have any questions!
What our clients say about us
Angela is very professional and talented. She makes you feel at ease from the beginning to the end. I'm very happy with the end result. I also found her prices to be reasonable. I would highly recommend her for micro blading.

Amber F.


8/14/2018

This was the most relaxing procedure I've had in a very long time! Angela was super sweet and really listened to my needs before the microblading started. I've spent years overplucking my eyebrows and desperately needed help with them. I thought I would be a challenge for her, considering the damage I've done. But, she was very calm and knowledgeable which made me feel at ease Just finished up our initial session. Will be back for a follow up appointment and will return again and again for her services! Excellent customer service. Will recommend her to everyone!

Jessica B.


1/11/2018

Angela is amazing!   She is smart, honest, kind and very professional putting me at ease the moment I walked in.   It is refreshing to find that type of attention to detail and quality customer service. I will always return to her  for my skin care and massage. Thanks to her, my eyebrows are gorgeous!

Michelle P.


11/15/2017

Angela is amazing! My microbladed eyebrows looks fabulous! After informing her about my goal, she did exactly what I asked & I love the results! She took her time & made sure that I am happy with the final look. Her place is a bit small but very clean & cozy. I will definitely comeback & try her skincare treatments.

Czher P.


11/09/2017

Anzhela (Angela) approaches skin care to resolve issues rather than treat symptoms.  My skin is amazing and it's because of her.  She's gentle and doesn't believe in shocking me or my skin.  Her practices are classic and effective.  She is always studying up on the newest techniques and reading trade news.  I trust her completely.

Nikki W.


3/03/2017

I went to Rouge et Noir for my first Brazilian wax in a few years. I had stopped going in the past because I had tried laser hair removal (which did not work and I don't recommend.) Anzhela was professional, thorough, and quick, three very important characteristics in an aesthetician. I will be going to her regularly from now on!

Rachel H.


1/21/2015

I started going to Angela for my bikini waxing.  She is so professional it's the one time I actual felt comfortable getting a Brazilian wax.  I decided to book a Glycolic facial with Angela and it was amazing!!  My skin is so smooth and the massage was fantastic!!  I can't wait to go back!

Tammy P.


12/04/2014

Rouge et Noir offers a thorough, efficient, and hygienic waxing experience. The salon is located in a single room of a historic house and only serves one client at a time, thus ensuring that complete privacy and quality service are provided. Angela also recently informed me that the salon will soon be upgrading to a new type of wax that is used by hospitals and offers equally thorough results with less pain. Rouge et Noir has affordable pricing and offers punch cards (offering 1 free wax after 5). After visiting salons that charged more and provided less thorough results, Rouge et Noir was a welcome find. I have already booked my next visit.

Julianne J.


11/08/2014

Located in a small historical house, Rouge et Noir is nestled in an upstairs studio. Comfortable and immaculately clean, the studio is private and relaxing.
Angela is personable, professional and knowledgeable and offers a complete experience of skin care. I plan to continue my monthly visits and enjoy the benefits of Angela's years of training.
I highly recommend Rouge et Noir!

JP W.


8/20/2014